Mechanical science and engineering professor William P. King has been leading a group of researchers and scientists that have developed the most powerful microbattery ever documented.
Illinois.edu reports the microbatteries are just a "few millimeters in size, yet they pack such a punch that a driver could use a cell phone powered by these [micro]batteries to jump-start a dead car battery – and then recharge the phone in the blink of an eye."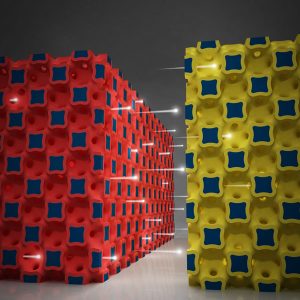 The initial thought is to drive new applications in radio communications and compact electronics with these tiny batteries. But let's think about the possibilities here:
Electric cars with significantly more than 300 mile range, not to mention reduced recharge time.

Currently they use huge batteries of a particular capacity. With microbatteries, professor King speaks of a 30x increase in performance in a  30x smaller size.

Harness solar energy for things like

powering a couple of hours worth of TV viewing, instead of using power from the grid.
charging you cell phone.

We could also put in batteries where batteries were not originally. i.e. Lamps around the house. Charge them once, use them until they discharge, then repeat.
Also, "Consider personal medical devices and implants, where the battery is an enormous brick, and it's connected to itty-bitty electronics and tiny wires. Now the battery is also tiny." – Professor King.
Now think about wearable electronics: Google Glasses, hearing aids, body analytics sensors, etc. These microbatteries could drastically change that landscape.
Read the microbatteries news post.
Buy or rent the full article:
High-power lithium ion microbatteries from interdigitated three-dimensional bicontinuous nanoporous electrodes
James H. Pikul, Hui Gang Zhang, Jiung Cho, Paul V. Braun, William P. King
Nature Communications 4, 1732 (May 2013)