Google recently announced a beta run for Google "Universal Analytics".
Universal Analytics? Yes, it's your one-stop analytics solution to bridging desktop, mobile, app, and multi-device users into one analytics package.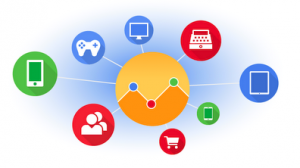 The goal: ROI of your campaigns, across devices.
Google's stated benefits:
Understanding how customers interact with your businesses across many devices and touch-points, 
Insights into the performance of your mobile apps,
Improvements of lead generation and ROI by incorporating offline and online interactions so you can understand which channels drive the best results,
Improved latency on your site by reducing client-side demands.
Check out how PriceGrabber says they plan to use Universal Analytics

Your best bet: learn more about Universal Analytics, and visit help center and developer guides.
Why upgrade?
Because we all use multiple devices to access the internet. Your older Google Analytics implementation was only capable of capturing a piece of that traffic. With Google Universal Analytics, you'll be able to see more of your traffic, and make better decisions.